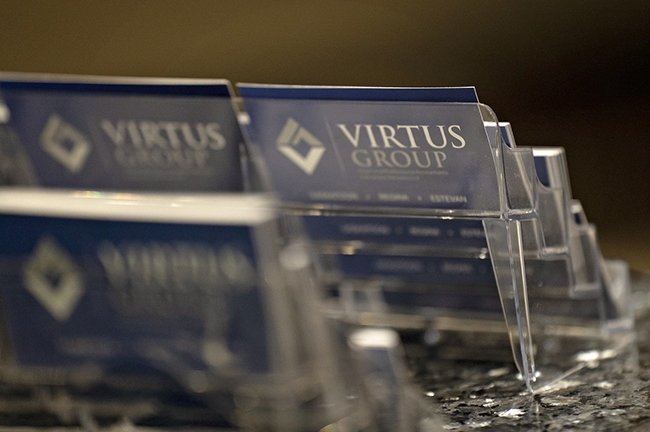 We listen. We care. We make a difference.
The idea of what makes a virtuous person goes back to ancient Rome. The pursuit if moral character, courage, and excellence can be traced to the fabric of modern civilization. In Latin, "Virtus" is the definition of these virtues, which are woven into the fabric of our practice.
We believe in the virtue of those who have boldly ventured into entrepreneurship, those who have faced a business challenge, or taken a step toward the unknown. We believe in those who wanted, and those who needed guidance, and gathered their most trusted advisors to plan for success. As business owners and leaders, every day is an exercise in learning and an opportunity for growth.
Today, we're the largest independently owned accounting firm in Saskatchewan. Like many businesses, we had humble beginnings – starting with one man, one spark, and a commitment to virtue that has endured for more than half a century.
Our Professional Advisors are Local Business Owner Operators
With offices in Regina, Saskatoon, and Estevan we provide professional accounting and business advisory services. Our team includes charter professional accountant (CPA), chartered business valuators, certified financial planners, a chartered merger and acquisition professional, and industry experts, like Agriculture, Energy and Automotive. We help entrepreneurs by truly understanding your unique needs and applying our expertise in time, strategic, and practical ways.
Your Financial Wellbeing Matters to Us
Your success reflects our ability and expertise. In our 60 years of operation, the power of a strong, trusting relationship has never been lost on us. In fact, our business is built on it. We dedicate the time necessary to understand your obstacles, and our team collaborates to give you unmatched accountability, efficiency, and value. There is a reason we have 30+ year client relationships, and staff.
Our Philosophy of Service
Your business challenges, obstacles, and ambitions are unique to you. Your satisfaction is critical, and your success is vital. Our team is collaborative, meaning our clients are never without someone they trust whom they can contact whenever they need to. This ensures your financial goals today are met and the financial strategies for tomorrow are in motion.