How can you help your business take advantage of opportunities? Do you have a strategic plan in place to support business growth? How do you develop a business strategy to help you reach your growth goals?

Here are seven tips for boosting your business strategy to position you for growth.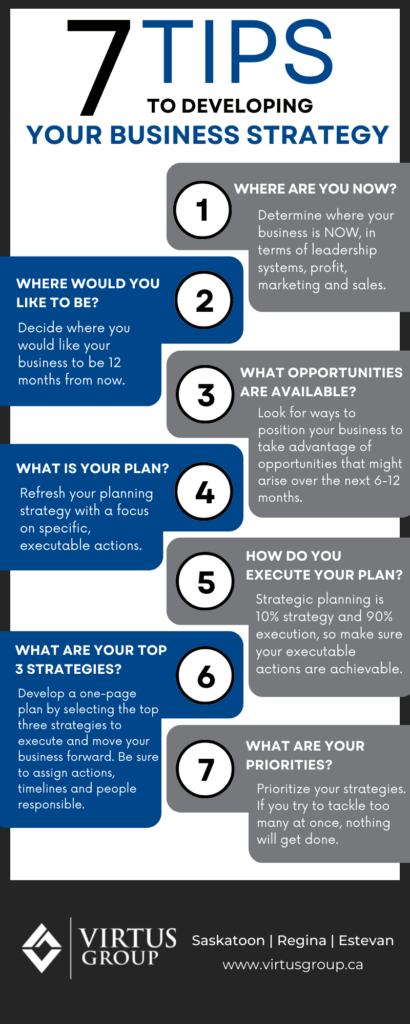 Click here to download a PDF version of the infographic above.
7 tips for planning your best business strategy
Determine where your business is NOW, in terms of leadership systems, profit, marketing and sales.
Decide where you would like your business to be 12 months from now.
Look for ways to position your business to take advantage of opportunities that might arise over the next 6-12 months.
Refresh your planning strategy with a focus on specific, executable actions.
Strategic planning is 10% strategy and 90% execution, so make sure your executable actions are achievable.
Develop a one-page plan by selecting the top three strategies to execute and move your business forward. Be sure to assign actions, timelines and people responsible.
Prioritize your strategies. If you try to tackle too many at once, nothing will get done.
How Virtus group can help
With our expertise at Virtus Group, we have extensive knowledge in developing business strategies for small and medium sized businesses in Saskatchewan across a number of industries, including agriculture, financial, energy, manufacturing, not-for-profit and professional services.
We'll help you develop a clear one-page plan, then meet with you on a monthly or quarterly basis. Our supported business strategy will help your team focus on key areas you've identified to move your business forward.
We'll also help you define your Sustainable Competitive Advantage (SCA). This is a statement that describes the type of business you will compete in and win in your market, and it outlines what makes your business unique among your competitors.
Your SCA will drive your marketing strategy, which will then drive your operational strategy.
Once you focus on executing your overall strategy, you'll be able to really advance your business over the next few months.
Questions? Get in touch.
We'd be happy to answer any questions you may have. Please fill in the form below to get started.