ARTICLE
Authored by RSM Canada
In today's competitive and fast-paced business environment, automation is not just a buzzword—it's a necessity.
Business and professional services (BPS) firms face numerous challenges, including improving project profitability and margins, adapting to shifting customer expectations and reducing administrative tasks. BPS business models rely on individuals with specialized skills, expertise, and knowledge but often must optimize internal resources while working to acquire and retain talent.
Each of these hurdles can be addressed with automation, which can help firms improve operational efficiency, enhance service, and drive value for customers and employees.
Start with a holistic approach
Automation is often approached as a solution for a specific business problem. Business owners may adopt an automation platform to optimize one inefficient business function, such as a customer relationship management (CRM) system to improve client management or an accounting system to modernize financials. While these systems can lead to small improvements within a department, operating multiple siloed systems often increases inefficiencies and redundancies across the organization.
"When we talk about automation, we want to reduce or eliminate the disparate and unintegrated systems. Embracing automation can help you compete in today's market," says Karen Wiltgen, principal and national business and professional services consulting leader at RSM US LLP.
Rather than address inefficiencies symptomatically, businesses should take a holistic approach and strategically automate each business function so that all functions work together.
"A key focus should be developing a digital strategy that provides a three-to-five-year road map that outlines and creates a clear path aligning to your business strategic goals. To achieve the greatest value, determine the benchmarks to hit and the tactics that will lead you to success," Wiltgen says.
To build a fully effective automation solution, it's critical to evaluate the root cause of inefficiencies and address how each function of the business individually and in relation to others.
"When we talk about automation, we want to reduce or eliminate the disparate and unintegrated systems. Embracing automation can help you compete in today's market."
Karen Wiltgen, principal and national business and professional services consulting leader, RSM US LLP
Focus on value drivers
A digital solution that maximizes your overall business value will include significant transformations of the areas of your organization that drive the most value. These typically include your business operations, client experience and employee experience.
Automation of your business operations will primarily focus on improvements to your back office. An effective digital solution will go beyond automating your finance processes and updating your demand generation process; it should provide proactive client management, improve project margins, reduce the risk for over-budget and overdue projects, and expand your ability to secure strategic clients.
To deliver a seamless client experience across all channels of engagement, implement automation that reduces barriers and issues a client might encounter while engaging with the business. This strategy can save time and effort and boost client retention. Optimizing project operations can help you increase efficiency and manage resources, leading to improved business performance and profitability. This can improve time to value, increase the odds of a successful engagement and boost overall client satisfaction.
Automating to enable collaboration, increase project visibility across the business, and improve resource management enhances the employee experience, increasing talent retention, co-ordination and productivity.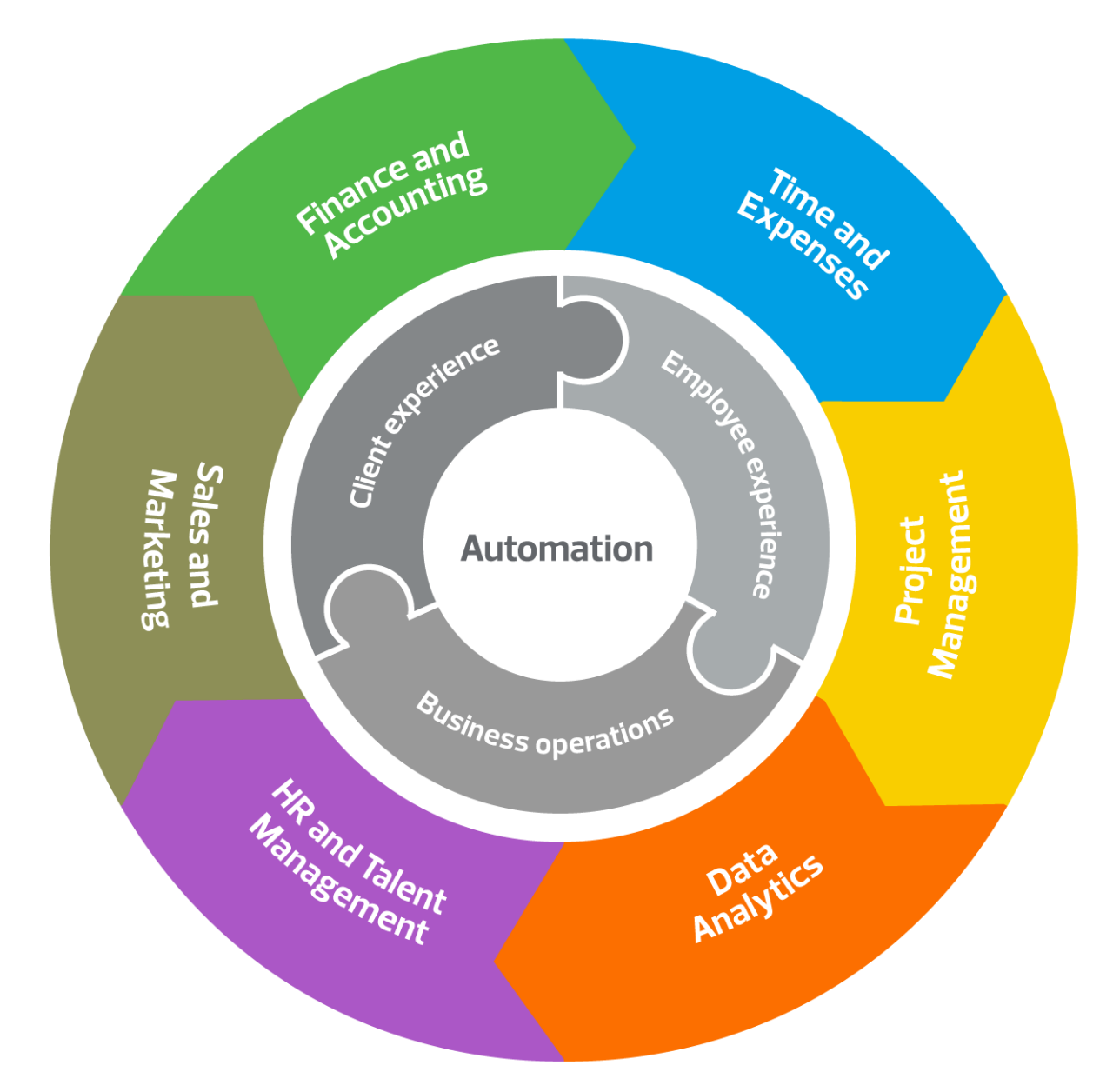 Automate solutions across key business functions
A holistic automation transformation can improve the following critical business functions:
Accounting. Reduce operational inefficiencies and administrative costs while improving the talent experience. Streamlining your billing and invoicing processes will reduce the need for manual data entry and ensure accurate and timely billing.
Time and expense tracking. Enhance the employee experience and remove operational redundancies. An automated time and expense tracking system also reduces your risk of errors and increases project profitability.
Project management. Improve the customer experience and streamline operations with a system that aids your talent around project management activities. Manage your projects and workflows more efficiently, improving project timelines, resource allocation and utilization, and overall project profitability.
Data analytics and reporting. Enhance operational efficiency and reduce the need for manual data entry and analysis. Dashboards and reports can provide insights into client profitability, project profitability, and overall business performance more accurately and quickly.
Sales and marketing. Improve business operations and the employee experience by saving time and resources. Automate lead generation, email campaigns, and social media posting to reach and engage target audiences effectively.
Human resources and talent management. Optimize the employee experience and simplify administrative personnel tasks, including payroll. Achieve increased productivity and profitability by automating processes that enable you to hire and retain top talent.
Addressing these operational and process challenges through increased automation is critical for services organizations striving to maintain profitability, competitiveness and customer/client satisfaction. Organizations that look to automation to effectively face these challenges head-on are better positioned for long-term success.
Let's Talk!
Call us at 1-855-206-5697 or fill out the form below and we'll contact you to discuss your specific situation.
---
This article was written by Karen Wiltgen and originally appeared on Jun 18, 2023 RSM Canada, and is available online at https://rsmcanada.com/insights/industries/business-services/automate-and-elevate-driving-business-value-to-new-heights.html.
RSM Canada Alliance provides its members with access to resources of RSM Canada Operations ULC, RSM Canada LLP and certain of their affiliates ("RSM Canada"). RSM Canada Alliance member firms are separate and independent businesses and legal entities that are responsible for their own acts and omissions, and each are separate and independent from RSM Canada. RSM Canada LLP is the Canadian member firm of RSM International, a global network of independent audit, tax and consulting firms. Members of RSM Canada Alliance have access to RSM International resources through RSM Canada but are not member firms of RSM International. Visit rsmcanada.com/aboutus for more information regarding RSM Canada and RSM International. The RSM trademark is used under license by RSM Canada. RSM Canada Alliance products and services are proprietary to RSM Canada.
Virtus Group is a proud member of the RSM Canada Alliance, a premier affiliation of independent accounting and consulting firms across North America. RSM Canada Alliance provides our firm with access to resources of RSM, the leading provider of audit, tax and consulting services focused on the middle market. RSM Canada LLP is a licensed CPA firm and the Canadian member of RSM International, a global network of independent audit, tax and consulting firms with more than 43,000 people in over 120 countries.

Our membership in RSM Canada Alliance has elevated our capabilities in the marketplace, helping to differentiate our firm from the competition while allowing us to maintain our independence and entrepreneurial culture. We have access to a valuable peer network of like-sized firms as well as a broad range of tools, expertise, and technical resources. For more information on how the Virtus Group can assist you, please call us at 855-206-5697.