Are you thinking of stepping away from your business or enterprise in the next 10 years? If so, you're certainly not alone. More than 69% of business owners are planning their exit sometime in the next decade.
Regardless of where you are in your career, having a business exit strategy is imperative. Our advisors put together a list of 5 critical things to consider when closing or selling your company.
A business exit is a matter of when, not if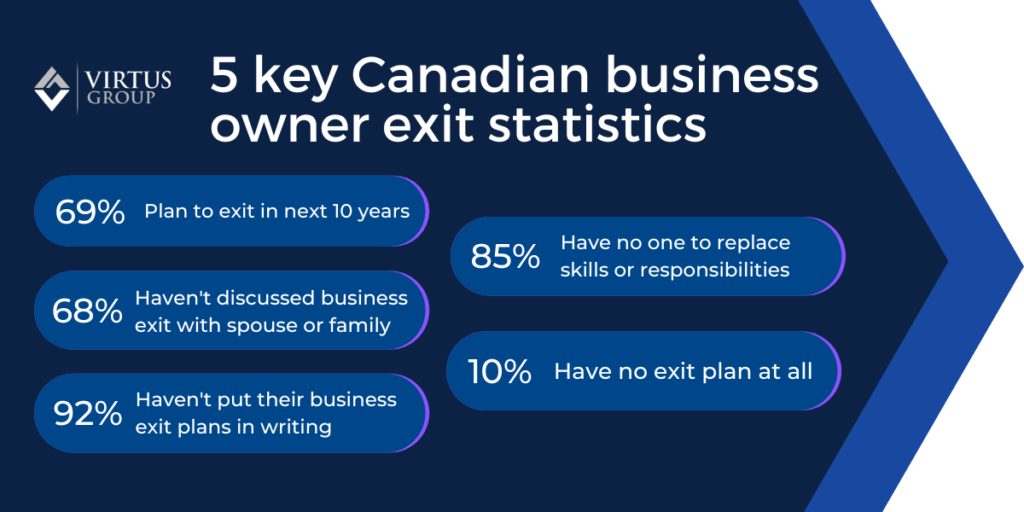 A business exit is inevitable. 100% of business owners will leave their company, some sooner than later. Since an exit is inevitable, you'll want to keep the following in mind.
69% plan to exit in the next 10 years
68% haven't discussed their exit with their spouse or family
85% have no one to replace their skills or responsibilities
92% haven't put their plans in writing
10% have no exit plan at all
1. Identify Your Objectives
Prepare a written Business Exit Plan based on your unique goals. Even if you begin only with a list of bullet points, take time to do this important step on your own before consulting with advisors and other stakeholders. If you need help with this, contact one of our Advisors.
2. Build a Team to Refine and Implement Your Business Exit Plan
No single professional has the all answers, skills and talents needed to develop and execute a comprehensive Business Exit Plan. Make sure at least one team member understands the exit planning process and has the time and resources to keep things on the right path. An experienced Exit Planning Advisor can streamline the process and make your transition more successful.
3. Understand Your Cash Flow and Quantified Business Value
You'll ideally want to have a positive cash flow from your business to prove to an external third-party purchaser that your business has value. If you're selling internally, the future cash flow of the business will fund your payoff.
If you're selling to a third-party buyer, they'll know how much they're willing to pay, so you need to know what your business is worth so your buyer doesn't have the advantage.
4. Build a Strong Management Team
It's easier to sell a business with solid management. Outside buyers in particular will be more interested if there is a strong team who will remain and continue to run the business after it's sold. If all of your corporate wisdom is in your brain, it will leave when you do—and lessen the value of your business.
5. Allow Time to Execute Your Business Exit Strategy
Planning and implementing a proper Business Exit Plan takes time. In fact, it can take years to build a strong management team or to build up enough cash flow to support the value you need.
A business exit doesn't have to be complicated. However, it does require some forethought and planning to ensure the transition will be easier—and more profitable.
Questions? Get in touch with our business advisory experts.